silver w c1
Perfectly Silver A great image starts with what we see before we press the shutter. A great black and white finishes with Silver 3, a collection of presets for Lightroom or Capture One dedicated to perfect black & white.

Silver V3.2: Made for epic black and white.
One Clicks: Bring your image alive fast.
Zonals*: Smart effects for game-changing light.
3D tints: The right hints of hue for every shot.
Master Mix: Easy mod presets, total control.
Features marked with a * are specific to Lightroom
Backed by our Iron Guarantee.
---
Works inside… LR5 – CC Classic | PS Camera Raw CC | LR CC / Mobile | Capture 1  12-20
Save 40% with the LR + C1 combo! Just enter code: LRC1
---

Get Silver in a Bundle and
SAVE (Expand for details)

---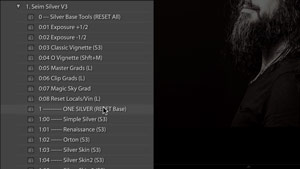 Instant Conversions:
One clicks make the perfect Black and White without leaving Lightroom! You are going to love Silver's fast conversions that get you where you need to go. But you can also customize to your hearts content.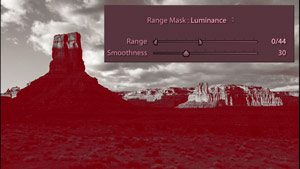 Zonals:
It's all about tone. Zonals use the latest mask features in LR to give you dynamic tone balance that maintains highlight and shadows while giving you deep darks and crisp balanced whites that award winning black and white demands.
Silver 3 for Capture One
We have really been loving Capture One lately, and from the messages we have been getting, so have a lot of you. We have gotten a lot of requests to be able to use Silver 3 in Capture One, and now you can! If you already own Silver 3 for Lightroom, and want it for Capture One as well,
Get intimat

e!

Nearly a decade ago we set out to make the best silver conversion system. Tone may be the most misunderstood element in art. We love black and white because it returns us to our roots and strips away clutter. Something so beautiful as tone demands tools that make it come alive. This is the 3rd generation of a toolkit dedicated to the craft of the perfect black & white and making us more intimate with the light.
Try Silver 3 Risk Free.
Download Silver 3 and try it yourself for a week or two. If you're not satisfied let us know why within 30 days and we'll fix it or give you a full refund. We should warn you, these tools are rock solid and returns are rarely asked for, we just want you to know you can be confident in a company that stands behind it's products.
---
Silver 3 was decade in the making. At version 1 Silver Shadows started as a project to help us get darkroom-inspired black and white without leaving Lightroom. Silver 2 took that further and for years has been an essential tool for photographers around the globe. But as other black and white software started to fade away or get abandoned. Silver 3 is a new generation of black and white. It's a system driven by the simplicity and quality of a Lightroom workflow but inspired by the nuances and rich tones of film and the masters.

We made Silver 3 more, we created a system to help us fulfill visualizations and us use the entire tonal range like never before. We designed it to help us get back to basics and become more intimate with light than ever before. Silver 3 puts incredible black and white at your fingertips. For batches, for fine art, for images that are perfect in camera and for those that need a bit of help. Here's what people have to say.
Gavin, your black and white presets are amazing! I just edited a few hundred images using them and I love the rich, bold balance it gives to my images. With your presets my images are now taken to a new level that is bound to get the attention of new clients! Silver Shadows 2 goes toe-to-toe with Nik's Silver Efex Pro and emerges unscathed. The ability to work completely within Lightroom with the tools you already are familiar with is worth adding to every workflow. "I am in LOVE with the ease and versatility of this set, Gavin! Thanks so much for the LR4 version." Monochromatix absolutely rocks! Hardly used Nik Silver Efex since I got them! These presets have become an integral part of my B&W workflow. Love the color fantasies as much as the Silver Shadows 2.0. Thanks Gavin Seim for great presets What's New in V3:

— Completely rebuilt presets for richer deeper black and white
— *Zonals: Dynamic tools that use the latest masking tools ion LR for game-changing tone.
— *3D tints: Just the right hint of hue every time. Now with dimensional tinting using Lightroom latest features.
— Built for workflow. A decade of creating tools for efficiency make made Silver 3 the best yet. Take your days back.
— UPGRADE: Own Silver Shadows 1 or 2? We emailed you an upgrade coupon to SAVE 50% Get in touch if you missed it.
— Now available for Capture One Pro! (features marked with a * are specific to Lightroom)

Check out the Silver 3 training video
Watch Gavin's in depth workshop and see what Silver 3 can do. Return to TOP to download Silver 3.
Try More Examples:

Want some examples Just move the sliders below to see what Silver 3 can do!
What Tools Do You Need?

Our preset collections work in Lightroom and Camera Raw/Photoshop. Presets are all about applying a look to single or groups of images and being able to do so in a non-destructive manner.

PW6 is geared not only to allow creative combinations but also speed, quick fixes and details like sharpening and grain. It's our main preset collection and sits perfectly at the top of your go-to Lightroom tools. If you want a toolkit for everything that will help you work faster start with PW6.

Silver 3 is dedicated to amazing black and white. Most people that use Silver don't need other plugins. It allows for a huge array of processes for black and white that use the color information in your files to make incredible silver looks. That combines with tools for mixing tone, tint and more and allows for endless combinations.

Actions work in Photoshop. Sometimes people get confused about the difference between actions and presets. Presets are one layer deep and the best starting point for general workflow, color and tone corrections. Actions use layers and more advanced tools and can give richer and more finesse retouching. Our actions use vertical editing which means you can run an action with one click and can add more on top to keep advancing your edit. The possibilities are endless. Actions and presets together make the perfect workflow.

Alchemist is our ultra powerful retouching actions. It has everything from skin surface tools and glamour effects to color overlays and sharpening tools. All with an easy to use vertical editing style with layers and groups that can be ticked on and off and altered to give your image a perfect look with infinite combinations. Alchemist will take your retouching to the next level and save you time in the process.

Lumist: These game-changing actions are all about being a master of Light. They allow you to see the types and zones in your image with a click using the Total Map. Then you can select any zone and apply an adjustment manually or use one of the many effects for light, color, and style and apply it to the entire image or just the selected zones. It takes the power of luminosity making but makes it so much more simple, visual and powerful.

For detailed descriptions of all our products, check out the homepage.
Order 2 products and save 15% with code: BUNDLE or find more deals on the bundles page.
Who is Seim?



Seim is an award winning Master Photographer and educator constantly strives to understand and share subtleties of light. He's a master of Lightroom and workflow loves quality. Back in 2007 as LR was getting started, Gavin released Power Workflow 1. Since then, he has designed a wide array of Actions and Presets as well the Award-winning EXposed Light Workshop.

All images and content, products and information copyright Seim Studios. Adobe products required to use this product are not included.
[xyz-ihs snippet="ViewCart"]
---
— Join our affiliate program and earn 20% of each sale you send our way —