Power Workflow 5

Super Speed and quality, now with PIXEL FORGE! There's many presets in the industry. But none can match Power Workflow because it brings nearly a decade of refinement into the most powerful preset workflow system in the industry. PW5 is a workflow and a light modifier toolkit for those who want the very best.
SUPER Series Presets – One click workflow tools.
MAGIC Presets quickly FIX problem images.
Pixel FORGE. Make your own recipes.
90+ workflow presets for LR 4-CC
Works in Photoshop/Camera Raw
Detail tools for sharpening & printing.

Includes Mastering Presets training videos! ($39 value)

The best presets, even better, GUARANTEED!
Instant Download:
ONLY $79.00

Complete LR Bundle + Workshop — SAVE $169 (See Details)




---
Get the Super Speed Workflow!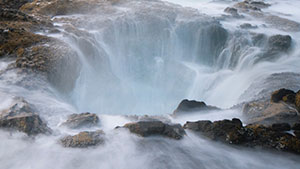 Fine Art Quality:
With an extensive background in wall portrait decor, Seim is passionate about quality and PW5 was designed with that in mind. It's a toolkit that's versatile and adaptable, putting artisan quality at your fingertips and combining it with speed workflow.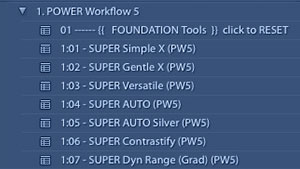 Improved Super Series:
This group of amazing batch presets takes automation way beyond Auto Tone. The new Super Series is more refined than ever, allowing you to edit any number of images at once with amazing results. It's the foundation of a great workflow.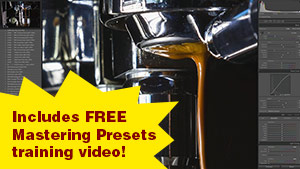 Mastering Presets Videos:
Now ONLY with PW5 you get Gavin's MASTERING PRESETS training videos as part of your download. 40 minutes of simple tips that show you how to use PW5 while you improve your workflow and quality.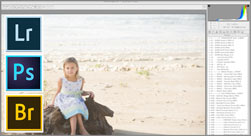 LR & Camera RAW
:
Version 5.2 now comes with two sets of presets. One for Lightroom and another with presets in Adobe Raw for those that use Bridge/Photoshop to edit.Both sets work on all Adobe compatible image file types and include the same presets with the exception of a few local adjustments that are LR only.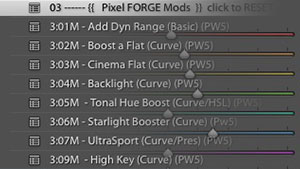 PIXEL FORGE (NEW):
PW5 takes modifier presets to a whole new level with Pixel FORGE. It means you can build your own effects on the fly, selecting and modding module specific Develop areas with a click while leaving other image settings alone. The possibilities are endless.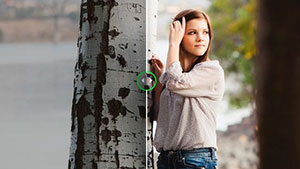 Better MAGIC Presets:
Along many of new effects in PW5, you'll find newly refined MAGIC tools making your most challenging problem easy. Harsh sunlight, reception halls, ugly light. Apply a one to a problem photo and watch the MAGIC happen.
Creative control without slowing down.
Power Workflow 5 is used by professionals and enthusiasts across the globe because it's in a class of it's own. With nearly a decade of development and refinement, version 5 is truly amazing. It allows you to use the sliders already in Lightroom in creative ways that you never would manually. Once click tools make batch workflows easy. Pixel FORGE presets allow you to build your own effects with just a few clicks and creative color and finish tools wrap it up with stunning perfection as well planned organization puts every tool at your fingertips. Our customers say it best. Power Workflow 5 is the must have toolkit for every Lightroom user.
UPGRADING: If you own a previous version of Power Workflow, V5 completely replaces them. Previous owners can use their upgrade discount coupon which should have been emailed to your original purchase address.


Other stuff you'll LOVE – Workflow Workshop | Natural HDR | EXposed Workshop | Complete Bundles
Try them out!
In Power Workflow 5, the possibilities keep going. Here's just a few examples; drag the sliders to see them in action.
What Photographers Are Saying.


"I love the new Power Workflow 4 already – the MAGIC fixes are so easy and so effective" – Sue Sitke

"Power Workflow 4 kicks photo editing up a notch with extremely powerful image fixes that really add a lot of dramatic edge to my photos. This is definitely a powerful addition to the Seim Effects Photo Toolbox" – Curve Media's Top Premium LR 5 presets for 2014

"The best LR workflow presets ever" – Jonah Koch

"Since purchasing Power Workflow 5 about 3 months ago I have removed almost all other custom presets.  Yours is my go to set for the develop module." — Leroy Moore

"Brilliant presets" Doug, Doug Wills Image

"Seriously people, buy this amazingly executed preset system. Gavin is a pro's pro. You won't find a better Workflow management system for Lightroom" — Cody Bailey

I absolutely LOVE your Lightroom presets and use them EVERY DAY!!!!!" Goode Dethero Photography

"I can't tell you how many hundreds of hours have been saved using your incredible presets" – Jay Snell

"Love PW since it came out. They're my "go to" presets that do my "heavy lifting" and just WORK versus trendy presets you see out there" – Tammy Sullivan

"I finally picked up the Power Workflow presets for Lightroom and all I can say is simply amazing – Josh Thompson

"I get so mad at myself when I think about all the money I wasted on other LR presets before buying yours" – Karen, Johansson Studio

"I am really digging into your latest PW5 presets.  They are really awesome." – Jay Snell

[like]
Who is Seim?

Seim is an award winning photographer and educator constantly strives to understand and share subtleties of light. He's a master of Lightroom and workflow loves quality. Back in 2007 as LR was getting started, Gavin released Power Workflow 1. It's now the backbone of an editing system that's subtly refined, yet incredibly powerful. Power Workflow 5 stems from nearly a decade of getting under the hood in LR. PW5 is the king of presets, GUARANTEED, or your money back.
**Sales tax applicable in WA state. All images and content, products and information copyright Seim Studios (c). Adobe Lightroom (r) required to use this product (not included). Join our Affiliate Program.