Incredible Black & White :
SIlver Shadows 2 makes delicate lights and shadows sing. It's most refined collection of silver presets available for LR with Precise control of detail, shadows, highlights, and delicate tonality, Silver Shadows 2 is your new darkroom.
NEW Version 2.5 is better than ever!
Over 100 organized refined silver tools
Mix and match, customize and tweak
Stunning conversions without leaving LR
Works side by side with other SE presets
Works in LR 1-CC. Mac or Win
Guaranteed quality and service


Complete LR Bundle + Workshop — SAVE $169 (See Details)

---
What You Get:
Silver Shadows 2 represents nearly four years of study since Gavin released version 1. Silver Shadows 2 produces artisan quality black and white in Lightroom. Gavin's deep studies of the nuances of black, white, and tonalities, make it a toolkit like no other. Organized with more than a hundred effects to address the subtleties of silver conversion and give you endless possibilities.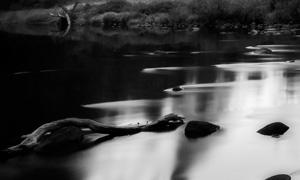 Pure Quality:
Most silver tools require that you leave your original file behind. That slows things down and throws out valuable information. Because LR can work directly with the original file instead of exporting to a plugin, you can keep creativity at your fingertips and retain every ounce of quality. To top it off, SS2 features the new (Cp) presets that work perfectly on not just RAW, but
JPEG, TIFF, & PSD.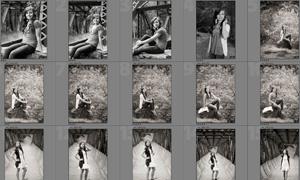 Workflow:
Large batches and single images can be processed accurately and efficiently. Silver Shadows 2 is not a haphazard set of presets. It's an organized system that focuses entirely on perfect black and white images. SS2 is in another league of quality and versatility. More than a few quick conversions, it's a refined toolkit harnessing the nuances that make black and white beautiful.
Doing it well and doing it fast.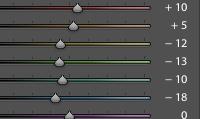 Control: Silver Shadows 2 gives you extraordinary control right from the start, because a perfect black & white is a subtle play of light that starts with a great image and a great development. Apply SS2 then print, or go further with stunning control of tonal values using burn, dodge and other techniques. SS2 is a system that allows you to focus on the details that are important to you and make your images sing.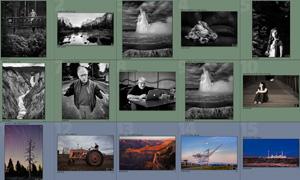 Collaboration was also in mind when Silver Shadows was designed. They've been made to work side by side with Gavin's renowned Power Workflow3 and Color Fantasies presets, keeping you organized and in control of your results.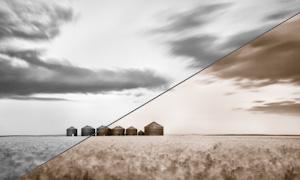 Styles & Tones. From classic to bold, portraits to infrared styles, subtle vignettes to gently hued image tints that can be applied independently. There's no need to convert outside of LR when you have Silver Shadows 2. You're in control.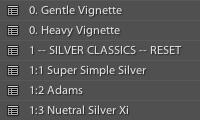 Endless Combinations. Mix and match effects till it's perfect, because SS2 presets change only what they need to. Don't like where you're headed? Just use the instant one-click resets and start again. SS2 lets you process your way.
Seim on Silver Shadows 2
"The perfect black and white not just de-saturation or a quick contrast adjustment. Silver is as subtle and complicated as it's been for over 150 years and you know that. That's why Silver Shadows II needed to be like nothing else. We made it to take digital images and scans and make world class conversions simple and makes your visualization come to life from screen to print."
What users are saying!

[like]

"I just downloaded Silver Shadows and it is definitely the best money I've spent on presets in a very, very long time!" — Lisa B

"Silver Shadows 2 goes toe-to-toe with Nik's Silver Efex Pro and emerges unscathed. The ability to work completely within Lightroom with the tools you already are familiar with is worth adding to every workflow." – Jim Haverstock, Photos On The Go.

"Your monochrome set is the best out there" John Francis.

"Gavin, your black and white presets are amazing! I just edited a few hundred images using them, and I love the rich, bold balance it gives to my images" Michael Anderson Photography

"Gavin, SS 2 is fantastic." Paul Donihue


"These presets have become an integral part of my B&W workflow." — Jay Taylor

"You are a bloody genius! I've got loads of presets but yours are the ones I routinely go back to. If creating presets were a scientific endeavor, I've no doubt you'd be a Laureate by now." —  Richard Barry

"Absolutely rocks! Hardly used Silver Efex since I got them" John, Catchlight Studios

"Gavin, Silver Shadows V2 is AWESOME !!!" Carole P.


[DDET

]
SS2 is carefully organized into categories to help you quickly get what you need. Don't forget that category names also act as one click "Reset Presets." They will quickly reset your image to RAW defaults, while leaving your crop and local adjustment details alone. Also, don't be afraid to mix up different presets or tweak settings yourself after the effect had been applied. The possibilities are endless.
Included Categories…
SS2 presets are divided into convenient style-based categories.
0. UTILITIES – 10 Presets.
This is a quick group of essential tools for refining your black and white images. It includes grain tools, vignettes, and quick button for resetting them. Note that grain effects will only work in LR3 and later.
1. SILVER CLASSICS – 14 Presets.
A mix of conversions, these are all designed to be everyday power presets. This is a quick start category with a selection of amazing conversions of a broad variety of images.
2. CHANNEL SILVER – 17 Presets.
All (Cp) presets, the Silver Channels category is a group of luscious effects that leaves non-channel settings entirely alone and mixes well with previously applied effects. See more details below.
3. DYNAMICS SILVER- 12 Presets
These powerful tools tweak the tonalities and dynamic range of an image in various ways. Sometimes bold and sometimes subtle, these presets are carefully crafted to give you control in situations where the light and dynamic range need perfect refinement.
4. GENTLE SILVER – 12 Presets
These are more subtle processes. Look here when you want gentle contrasts, subtle light, and easy going black levels.
5. HARD SILVER – 13 Presets.
Now things are getting intense. Hard Silver is where you'll find bold contrasts, intense channel mixes, and infrared-like effects. They're powerful, but use with caution. It's easy to overdo boldness.
6. SILVER TONES – 20 Presets.
These are carefully planned color tints for black and white. Some hearken back to vintage tones in the darkroom; some are fresh color blends that are not possible with film. A few of these convert to B&W, but most are the new independent TONE effects as described below.
RAW Reference Files.
It's great to have some base reference files to try effects and experiment on. SS2 includes 3 full 5D MK2 RAW files from Gavin. He selected them as versatile test subjects and aids to help gain a better understanding of the conversion process. These cannot be used in your own portfolio, but they are great reference files on which to experiment.
Preset Types…
Included in the order of SS2 are notations on certain presets. These are terms used throughout all our presets and show things about a given preset to help you better mix and match. You can learn more about the different type on the guide:
[/DDET]
Try just a few of the endless combinations.
Other stuff you'll love – Color Fantasies 2 | Power Workflow 4 | EXposed Light Workshop

Visit the help page for answers to common questions. And don't hesitate to contact us with more. **Sales tax applicable in WA state. All images and content, products and information copyright Seim Studios. Adobe Lightroom required to use this product (not included).