Gavin Seim | Facebook – Twitter – 500PX – Google+
Gavin is a twenty six year old Portraitist, Pictorialist & Writer, based in Central Washington, where he owns a studio gallery that focuses on signature wall art, portraits and weddings. Gavin frequently takes his family on the open road, working, exploring, searching for landscapes, and teaching photography workshops.
I'm Gavin: I'm passionate about making wall art and about writing. There's always something more to learn or tell about. It seems to me that the problem with photography is not education. It's that we often think we're too good to need it. If I can make images that only in part, portray the beauty and the wounder of God's creation. I have succeeded.
I got serious about photography when I was around twelve. My work has come to be influenced by classical painted works from the Renaissance, thru to early America, the Hudson River School and into modern times and photographers like Ansel Adams Ken Whitmire and others.
I enjoy studying what's worked for centuries, reading about and observing the works of master painters and legendary photographers. I like pushing the limits of what's possible, but also studying how it relates to techniques that have stood the test of time.
I experiment a lot in search of better ways to do things. Researching, sponging up information and attending educational events all over. I want to search the minds of my peers and absorb anything that can make me better at my craft.
I'm pretty fanatical about making my work as it can be. Maybe too fanatical for some, but in a world where photographic images are a commodities, I feel the need to push myself to make something more.
I love digital and printing, but I've also developed a love for large format film. I like the gear and gadgets, but I've learned they don't make a good image. They're just tools and it's how we use them that counts.
I can be opinionated and sometimes stubborn, but it's humbling what I've been allowed to do in my life. I'm blessed to have studied under some of the best photographers in the world and in recent years, have had the honor of speaking about photography and teaching what I know to others. I love talking about it, writing about it.
I like to make people laugh, I'm outgoing, a perfectionist and a bit of a showman. Some of my known projects include Pro Photo Show, a podcast and learning community for photographers. F164, my pictorials portfolio and my personal travel and image journal. And Seim Effects, my line of creative editing tools and tips for photographers.
I also love word craft outside of my educational writing and I'm working on a collection of fiction novels and stories with my younger brother Nathan. More about that on our writing site. Also you can learn more about my latest projects on my homepage.
A Bit More About Me. I was born January 1985 in Seattle to Grant & Sue Seim (my amazing parents). I bought my first camera from a yard sale when I was seven. It promptly broke, temporarily ending my photographic career till about age twelve. I was married to my beautiful wife Sondra in 2007 and we bought our first home in 2010.
My Goal. To produce the most breathtaking art I possibly can and put it on walls. To give great service, share ideas, and make a good living for my family. But while doing it, to grow in things that really matter.
Among Other Interests. I love reading (well mostly listening to audiobooks) as well as writing. I'm a ventriloquist and a square dance caller (ya, different, but fun). I also enjoy vocals and even do a little yodeling (didn't that go out of style a long time ago?).
Bottom Line. I love Jesus, my family, wife, my kids and my job. I'm not perfect, but I'm moving forward. What good is having everything, if in reality I have nothing. God has blessed me and I hope to use the talent he's loaned to me the best I can.
Our Travels. We hit the road for 3-4 months out of the year in our camper. With me, the wife and three kids, it can get a little crazy, but there's nothing like it. We have a neat setup that I keep upgrading to better fit our needs. While traveling I make pictorials all over the US, then teach workshops and private sessions to help offset travel costs. To learn more and see where we're headed visit the tours page.
<< Sondra Seim: Wife, Mom, Assistant: (Facebook).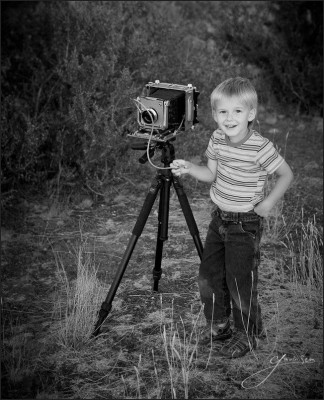 I'm not the only one around here. My beautiful wife Sondra puts up with me and is patient with my many quirks. She joins the travels and also does the secretarial work for Seim Studios. She's the best looking member of the Seim team. We were married in Spring of 2007 and while Sondra is not a photographer, she helps a lot in keeping the business and the home flowing smoothly.
Cyrus Seim. The PR Guy >>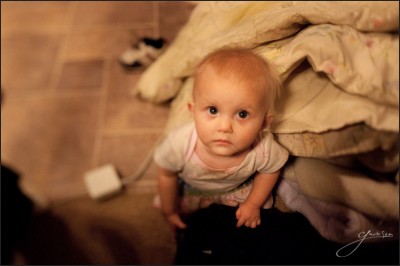 Cyrus is our boy. He's was born Feb 2008. He loves gadgets, electronics and computers and is shaping up to be a smart one. He also knows how to make the ladies swoon. And yes, he already has his own camera.
<< Ariana Seim. The Sneaky Sweetheart:

Ana was born in Nov 2009. She's a feisty one, but with those eyes I think she can melt the heart of kings.
Asher. The Newest Member >>
Asher came along in Sept 2011. He's a pudgy little dude who knows how to stay cool and like to eat. A lot.
More Great Stuff From Seim Effects...