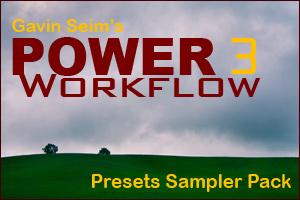 by Gavin Seim:
Power Worklfow v3 has finally arrived, representing three total years of LR study and experimentation since this all started. I'm really excited. I feel they set a standard for workflow presets that fit just about any situation you could possibly need. You can see the details, video, samples etc, on the PW3 info page.
As always, I wanted to post up a freebie sample pack so readers can get some goodies and a small taste of what in store inside my latest collection. Below you'll find a download with 8 presets from Power Worklfow3, including Super Hero2 and my new LOTR effect. The full collection has more than 75 presets, so if like them there's lots more where these came from. Download and enjoy… Gav
More Great Stuff From Seim Effects...

Comments
comments