by Gavin Seim: Sometime back I made a little pack of brush presets for Lightroom and it got download over 25,000 times. With the release of Lightroom 4 and it's new develop tools, I decided it was time to revisit brushes. I started over and made a brand new pack of  free brush presets for LR4. There powerful new tools in LR4 brushes, including white balance, better softening, better tone control and more. If you still use LR2-3 check out the old brushes.
This FREE Essentials pack has six brush presets that cover, well the essentials. For some of you that may be enough. But for the rest..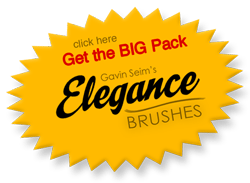 ..This time I went further. I made the The Elegance Brush Collection. A complete pack of more than 20 LR4 brushes that cover everything essentials to creative tools like the warming brush, a highlight brush, the HDR brush and lots more. A simple elegant, reasonably priced brush toolkit for those of us that want more and to support my work. You can see a complete list of all brushes and the first 6 that are in this free pack on the product page.
You can download the FREE essentials set below. As you do please share this post with others.
Please share with a +Like, +1, Tweet or post.