Get the Color: The play of light and color mixing in creative ways is powerful. Based on years of development, CF2 gives you complete control over creative color in LR. But it won't last long. Color Fantasies is only available thru the end of May and then it's gone.
Limited availability! Ends May 30th
5 categories of POWERFUL color tools.
From subtle color to Hollywood inspired hues.
Powerful – Mix and blend effects endlessly.
Organized for workflow and creativity.
SEIM REAL service and support.
100+ presets for Lightroom 3-CC

Last Chance Sale 49. Only $39.00
Availability ends 05/30
[expand title="
Complete LR Bundle + Workshop — SAVE $169 (See Details)
"]
Get all 6 of our LR Preset Collections.
— Natural HDR 2
— Power Workflow 5
— Silver Shadows 2
— Classic Vinyl
— Color Fantasies 2
— Elegance Brushes
— + Sliders Workshop
Check out other bundles here.
[/expand]
[xyz-ihs snippet="bndl3-dpd"]
Buy 2 or more products and
SAVE 15% more with code: BUNDLE
[xyz-ihs snippet="globalinsert1″]
---
Use the sliders to try them out!
What's Inside?

Quality:
Few are as passionate about image quality as Gavin Seim and CF2 was designed with that in mind. It's a toolkit focused on breathtaking color and artisan quality at your fingertips.

Workflow:
From large batches to single images – CF2 is an easy to use organized system that works on it's own, or side by side with Gavin's other workflow collections like Power Workflow and Silver Shadows.

Balance:
Refined tools that will keep you creative and efficient – Not repetitive over processed junk. CF2 is color with lots of possibilities for photographers who want the best from subtle to bold. Mix it up or tweak it.

Versatility
: CF2 comes with collections for older LR versions 1-3, as well as the full collection for LR4 and the latest process. It's also designed with crossover in mind, where effects are tests and refined on many image styles.

Infinity:
Mix, match and adjust for the perfect look. Run batches, mix effects or add powerful toning effects. Tools can be used solo or blended together for more possibilities. If the mix goes too far, click the instant RESET buttons that return you to defaults.

Inspired by Color:
Great color starts by understanding color – Gavin has spent years refining CF. This come to light in it's vast array of tools in V2, from classic, film-inspired tones to Hollywood tones and inspiration.
Real Customer Reviews…

[like]

"Color Fantasies 2 is fantastic! It is, by far, my favorite set of LR presets" – John S

"Color Fantasies is gorgeous" – Julian Fuhrmann

"Upgraded today and all I can is WOW! These are amazing" – Michael C

"Just wanted to say I bought your Lightroom presets. I've downloaded a bunch of the freebies off several sites, some were OK most were not. Yours are my go to for near everything now." Matt Z

The new "Color Fantasies" is gorgeous. It will define my look for 2010… simply great stuff!" Julian Fuhrmann

"Got the Color Fantasies yesterday and you've outdone yourself, Gavin! They are really wonderful." Connie Graham Terry.

"Just got mine! THESE ARE AWESOME!!!" AJ Zeller

"Blueberry was EXACTLY what I needed for the shoot I'm editing right now. Awesome." Heather Allison.

"LOVING the new presets! Super fun." Molly Nickles

"Gav just a big thank you for the Lightroom presets I have just bought – don't know how I was surviving without them"

Bartek Boski

"Your stuff is wonderful and tops the list of my favorites"
Jennifer Clark



Infinite Color Mixing a Click Away: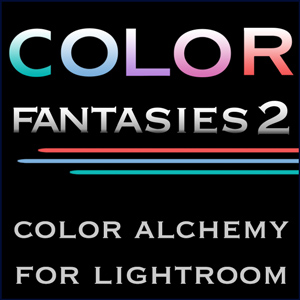 A Color Masters Toolkit: In the early days the science of color brought challenge and reward to those who mastered it's craft. The techniques may have changed, but the subtleties of what make our eyes respond to color have not. Designed by photographic and Lightroom veteran Gavin Seim, Color Fantasies 2 is in a class of it's own for creativity and color refinement.
It all started years ago with award winning photographer Gavin Seim's Power Workflow presets, the bit of everything editing pack used by photographers from around the world. Next came Silver Shadows, and Color Fantasies. But Gavin wanted to take color further. So he went to work on a new collection of effects dedicated to harnessing color at deep levels so that whether you want a bold tone or a color shift you don't even realize is there, CF2 would give you the tools you need to do it better.
What's New in CF2: Everything,that's what. CF2 has been rebuilt from the ground up for great color nuances and control, better workflow and better mixing capabilities between effects. Every effect is new or remastered in CF2 and the result is a color toolkit that every photographer can find their niche with.
Endless Color & Control. In Color Fantasies 2 the hard work has been done and you can leverage the subtleties of color in your own way, mixing, matching, and adjusting on your terms. It's a little hard to describe what's inside because it's surprising how many stunning variations of color you can achieve in LR. Check out the tabs for more examples.


Other stuff you'll love – Elegance Brushes | Silver Shadows 2 | EXposed Light Workshop
**Sales tax applicable in WA state. All images and content, products and information copyright Seim Studios (c). Current version, Color Fantasies2.00 released 12/12. Adobe Lightroom (r) required to use this product (not included). Join our Affiliate Program.