"I'm Gavin Seim. A portraitist, pictorialist and independent filmmaker. I started studying photography as a kid and grew up in the early days of digital. My goal is to raise the bar and help photographers be more creative and profitable with world class education, tools and content. We're a quality and service based company. People love our products because they meet set the standard and we're so confident in them we GUARANTEE every one!"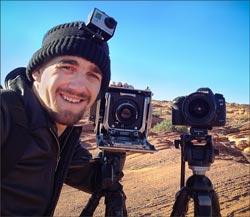 Who is Seim? Seim is an internationally recognized photographer and educator renown for his experience with tone, wall decor and the digital darkroom. Seim teaches and tours around the US with his family, studying technique and making new images.
Seim is host of the Pro Photo Show and Photographic School. He's passionate about making the perfect image and raising the bar on our craft.