Power Workflow 3.5 Sampler. Free Presets for Lightroom 1-4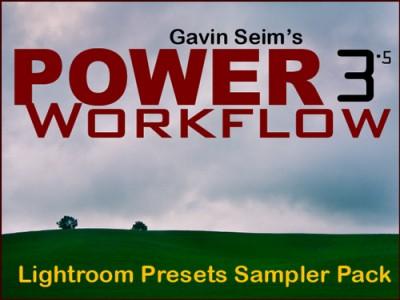 It's Gavin here and Power Workflow 3, my flagship LR set that includes a bit of everything, just got updated to version 3.5. It has new refinements and full Lightroom 4 compatibility.
So I always post freebies from each set I make, to share and to convince you just how good they really are. With the release of v3.5 I wanted to post this free presets pack, that includes updated legacy presets as well as the new LR4 versions.
Below you can download 8 presets from Power Workfow 3, including Super Hero, Portrait Power, Simple Polarizer and more. Download and enjoy. If you like what you see, the full collection has more than 75 presets guaranteed to please. Enjoy… Gav
A little PW3 User Feedback. More on the product page…

"Hey, just picked up power workflow 3…. Amazing! Wish had done it sooner" Jason E
"The best LR workfow presets ever" Jonah
"I've been using your Power Workflow since version 1, but you've really outdone yourself with version 3, it absolutely rocks! Dennis Bouman.