Free Aperture Presets. LightFlow Sampler Pack.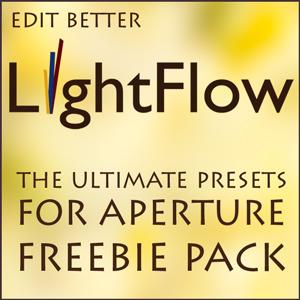 Lightflow for Aperture is an ultra refined presets toolkit for photographers that's based on many years of digital editing experience. I like to give away freebies and samples from every full collection I release and LightFlow this is no exception. Below you can download the sampler pack that includes 6 great effects from LightFlow, including one of the new Super Series auto correction presets.
I've put loads of refinement into LightFlow and I think you'll love them. I hope you'll also check out the full version because with over 55 presets, it takes Aperture workflow and creativity to new levels. And like other Seim Effects tools, LightFlow is guaranteed to please.
The freebie pack includes the following presets. You can find a full description of each in the presets list on the main product page.
Super Hero.
Super Simple.
Color Dance.
Faded Glory.
Simply Silver.
Dusted Warm, Tone.
Download via the link below. No strings. Also if you'd like to keep up with my future releases and freebies, you can sign up for my newsletter right over there >> in the sidebar. Enjoy… Gav