FREE Lightroom Workshop Series – 6+ Hours of Training Videos.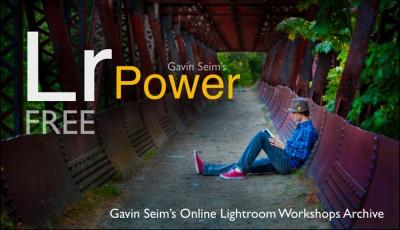 by Gavin Seim: Hey folks. I've decided to share some archives and post all the recordings from my LIVE Lightroom Power workshops. These cover nearly every critical facet of Lightroom, in order, from start to finish. Last year I hosted this online series and it went well, so I figured you would enjoy them.
Bear in mind these were live shows, so there's questions and small interruptions mixed in. If you want faster more structured lessons, check out my studio recorded, LR Ninja Series. It's chapter divided by topic and polished like my other video collections – Either way, whether you use LR already or are just getting started, you'll get something from these videos.
I'm adding all five videos below. Also direct links should you want to bookmark them to watch later. Each is about 1.5 hours long. Note, that these were recorded using LR3. But while a few features have changed, the significant tools and concepts behind using LR are the same.
This is a total freebie. If you like what you see please share check out the the homepage for my editing collections like Power Workflow 3 and my other workshops like EXposed, a new video series about light that is seriously like nothing else you've seen. Check out the trailer below and get the download it here or DVD here. But without further adieu, lets hop to Lightroom videos. Enjoy… Gav
[like]

Want more? Watch the trailer and see why Gavin's EXposed workshop is getting such rave reviews.
[xyz-ihs snippet="newsletter"]
The videos – 5 segments, approx 1.5hr each – Follow links to view in HD.

Please share this post – View Gavin's art & projects on his homepage. And follow his art studies in the Light Letter.
Workshop #1 – Lightroom Essentials. Getting into basics, catalogs and managing images.
– What is Lightroom all about –
– Understanding the Catalog –
– Importing Your Images –
– The Basic Grid Edit –
Workshop #2 – Everyday Lightroom. Getting into folder, develop module, presets and more.
– Folders, collections and V copies –
– Develop Module Essentials
– Leveraging the power of presets –
– Image exporting & watermarks –

Workshop #3 – The Lightroom Pro. Time to start flying with workflow, collections and making great files.
– The Super Workflow –
– Local corrections and brushes –
– Better dynamic range using LR –
– Better understanding file quality –
Workshop #4 – The Lightroom Master.Getting deep into channels, detail control, external editing and beyond.
– The power of channels. Color, B&W. –
– Noise, detail sharpening & beyond –
– Detail edits & Photoshop integration –
– Extending LR. Plugins and more –
Workshop #5 – The Lightroom Businessman. Advances tools for the working pro. Metadata, videos, selling and beyond.
– Folders, files, tags & metadata –
– Slideshows, videos & web galleries –
– Leveraging Print templates –
– Using LR in the sales-room –